Peter Masters
(petermasters on FetLife)

Peter Masters
(petermasters on FetLife)

---

About me
About this site
My books
BDSM
From PeterMastersWiki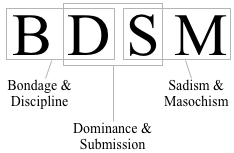 Figure 1. The BDSM acronym
The term BDSM is generally used to refer to activities or relationships between two people where there is a deliberate imbalance of power or control. Typically, this plays out as one person taking charge, and directing and engaging their partner in often intense physical or psychological shared experiences.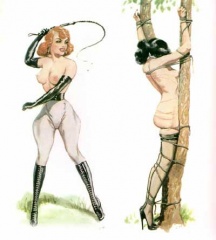 A common view of BDSM---even those engaging in it---is that it has mainly to do with sex. For some people this may be true, but for others much of what they do in the BDSM arena can have little or nothing to do with sex. While BDSM can be seen as sexual foreplay, or as a kinky way to engage in sex, there can be other motivations involved as well.
BDSM itself is a compound acronym (figure 1) standing for:
In this article we will be examining BDSM from several different perspectives, including:
The activities and practises involved,
The relationships practitioners of BDSM have with each other, and
The reasons and motivations behind their involvement with BDSM.
Practices
BDSM is often practised as short periods of focussed activity between two people. These periods of activity are frequently called "scenes" and the activities themselves are called "play". The activities usually include one or both of the following:
While the above list mentions the most common BDSM activities, there are also many other activities practised by BDSM aficionados which can provide equally or more intense and satisfying experiences but are considered niche or which require special practise, skills or experience, or which require particular and expensive equipment. These can include cutting, piercing, and electricity play.
In all cases there is an aspect of power or control involved, with one person having that control or power, and the other person being subject to it. For example, someone tied up is effectively under the control of their partner and is subject to whatever their partner wishes to do to them.
Scenes
Scenes themselves are well-defined times when each of the people involved consent to what they'll be doing together. They have a clear start and end, and between those two times the people involved engage in and practise things which they typically wouldn't do outside of a scene. The fact that there is a clearly-defined end to the activities can be very important for those involved because it allows them to relax and enjoy the experience knowing that it won't go on so long as to become overwhelming or unendurable.
Because much of BDSM is seen as taboo or socially unacceptable---sometimes even by those who engage in it---scenes can help to create a safe context for BDSM. For example, striking, slapping, spanking or hitting your partner, especially when such hitting causes pain, bruising, abrasion or other injuries to the skin, is generally thought of as a bad thing. However, this sort of activity is precisely what happens in much of BDSM. The fact that it happens in the agreed context of a scene and with a sexually or emotionally satisfying result takes it out of the realm of abuse and into the realm of healthy adult interaction.
Likewise, tying up your naked partner and having your wicked way with them would, in other contexts, be seen as kidnapping, abuse, deprivation of liberty and lot of other legal terms. In a BDSM context however, such a thing can be exciting and powerfully stimulating.
The important things about scenes then are:
They provide an agreed context in which to engage in agreed activities which wouldn't normally be engaged in,
They provide an agreed start and end time to those activities.
Types of play
As we saw at the beginning of this section, there are two main types of play: that which involves striking or hitting---also known as impact play---and that which involves some form of bondage or restraint.
Many BDSM activities can be and are grouped together with those which produce similar feelings or similar sexual, emotional or psychological outcomes.
Impact play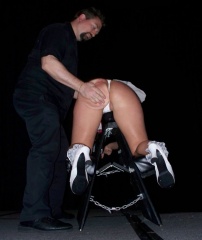 Figure 3. A spanking in progress
Impact play is any activity involving hitting or striking. It includes caning, whipping, flogging, spanking (figure 3), slapping, and paddling.
Impact play can be divided into that which causes a thudding type of pain, such as when using a heavy flogger or cane, and impact play which causes a sharper or stinging pain, such as when whipping, spanking, or striking with a thin cane.
In addition, some forms of impact play can have an emotional or psychological effect beyond the pain itself, particularly face slapping (humiliation) and over-the-knee spanking (disciplinary or embarrassment).
Impact play has the potential to leave weal or bruising.
Bondage and restraint
Bondage and restraint also cover a wide range of variations. Rope bondage (figure 4) is perhaps the most common form, though it can have many variations:
Rope bondage for restraint,
Rope bondage for sexual access,
Shibari, and
Rope bondage for suspension.
In addition, the sensation caused by the rope can depend on the material from which it is made. Ropes specially made for use in bondage are quite soft and supple. Other ropes can be stiff, rough or quite fibrous and can scrape and abrade bare skin.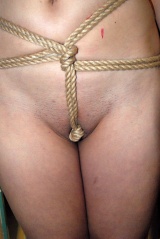 Figure 4. Rope bondage with a knot placed so that it rubs the clitoris
Rope bondage can be applied full body or just on the parts of the body of interest with different effects. For example, tying someone spread-eagled to the bed makes them completely and helplessly sexually accessible. It just involves the wrists and ankles though and the focus is clearly on the immobility and restraint aspect of the bondage. On the other hand, doing a complex tie which involves rope being applied to the whole body from the neck down, and which pins the arms and legs in position relative to the body can also leave the person completely immobile, but the focus here is on the feeling of the rope restraint, not just the inability to move.
Sometimes complete restraint is not the intent and rope can be used to create effective handcuffs---just restraining the hands, or to function as a leash used to to restrain someone to a particular area or to guide them like a pet dog.
Bondage can be an exercise in artistic expression for some BDSM practitioners where they combine the restrain aspect with a careful and considered placement of the rope and knots to create a decorative and attractive package. There are various forms and styles of decorative bondage, some strictly home-grown, and some with an oriental heritage, such as Shibari.
Metal and rigid bondage
Rope isn't always the restraint of choice. Metal and chain restraints, such as handcuffs or leg cuffs are also commonly used. There is a big difference between the feeling of rope compared to the feeling of chain. Rope has some flexibility and some give. Chain and other forms of metal bondage are cold and unyielding and this factor of irresistibility can be part of their attraction.
Cages are less frequently encountered in the BDSM world, mainly because of their cost and the difficulty of making them. They are popular in professional BDSM establishments and at BDSM clubs, and part of their attraction is that they are, like chain, cold and unyielding.
Because of the sometimes sexual nature of BDSM, an often-found piece of restraint equipment is the spreader bar. This is a rigid rod or bar with loops at each end. It can be placed between and attached to a person's knees or ankles to hold them apart to ensure irresistible and unfettered access to the person's naughty bits.
Other restraints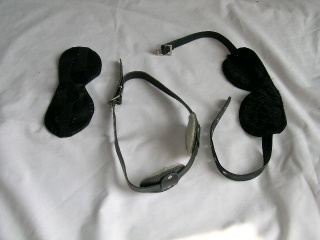 Figure 5. A selection of blindfolds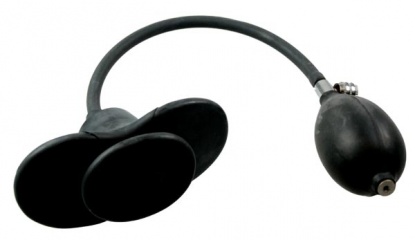 Figure 6. An inflatable gag
Blindfolds (figure 5) and gags (figure 6) are used by some BDSM people. Blindfolds can help create feelings of apprehension and suspense, and gags can be useful to control speech or to allow the person wearing it to scream (in pain or ecstasy) without being heard by the neighbours.

Figure 7. Mummification in PVC wrap
Finally, in the bondage and restraint area, a particular favourite amongst some BDSM practitioners is mummification (figure 7). This is a full-body wrap in some material such as kitchen plastic wrap. It creates a mummy-like package in which holes can be cut to provide access to interesting parts of the body.
Pain play
Pain play is the deliberate inflicting of pain for pleasurable, satisfying or erotic purposes. This might seem like a contradiction because pain is, well..., pain. But for people who find it intensely powerful or exciting to be under the control of their partners, being subject to pain inflicted by their partners can be a very effective, rewarding, and satisfying.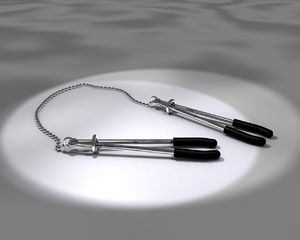 Figure 8. Nipple clamps are very popular for nipple torture
Pain play can include some forms of impact play, such as caning and whipping, and can also include:
Some people find that prolonged pain, such as through regular caning or flogging, releases neuro-chemicals which create a natural "high" For some others, the pain can be cathartic and leave them feeling cleansed and refreshed.
Sensation play
In sensation play, the power and control involved in BDSM play out as one partner controlling and manipulating the physical sensations which their partner experiences. This is often very different from other forms of BDSM which usually involve some form of pain or restraint in that sensation play is often very gentle.
Human beings have five senses---touch, smell, taste, hearing, and sight---and all of these are candidates for BDSM sensation play.
Sight
Blindfolds have already been mentioned above in the context of restraint. Blindfolds effectively turn sight off. Because we get most of our information about the world and about what is going on around us through our eyes, not being able to see can leave someone feeling vulnerable. Indeed, this is typically a desired powerful psychological effect for BDSM.
Instead of turning sight off completely via a blindfold, sight can be modified by using different coloured lamps, by turning down the brightness of lamps, by closing the curtains, or even using special glasses.
Hearing
Hearing can be controlled by addition---by playing recordings of music or other sounds, or by subtraction---through the use of ear coverings or ear plugs to reduce or eliminate what can be heard. Similar to blindfolds, limiting what someone hears can cause them to feel vulnerable and exposed.
Touch
The sense of touch has two aspects: what we can actively touch and explore with our hands, and what we can feel touch us via contact with other areas of our skin.
What we can touch and explore ourselves can be controlled by using special BDSM gloves which completely enclose the closed hands and fingers in soft material. On the other hand, what we can feel through our skin can be quite extensive.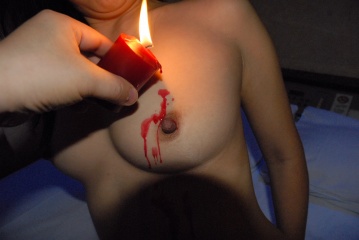 Figure 9. Hot wax being dripped on a nipple
Touch can be sexually arousing when nipples or genitals are explored by our partners,
Tiger Balm or similar muscle medicaments can create feelings of heat or burning, especially on sensitive parts of the body such as nipples and genitals,
Temperature play: using hot or cold objects, such as heated metal implements or ice,
Abrasion play: rubbing various materials across the skin, such as sandpaper on nipples, using coarse hemp rope during rope bondage, stroking silk cloth across the body, etc.,
Wax play: dripping liquid wax from burning candles onto naked flesh (figure 9),
Rolling a Wartenberg wheel across the skin. This is wheel with many sharp points sticking out of it used for neurological testing.
Smell
Commonly, the use of perfumes, or scented oils or candles.
Taste
Taste is a sensation which is only infrequently a part of BDSM play, but never underestimate the power of Vegemite.
Body modification
Continuing the power and control theme of BDSM, another way in which one partner can affect or can control their partner is through their partner's appearance.
In some relationships, one partner will decide the clothes their partner wears, their shoes, their make-up, their jewellery, and even their hairstyle. These are all often easy changes and frequently don't have a lot of power or intensity associated with them. They may have just a titillating effect.
More permanent body changes can have a much more profound effect. These include:
Cutting and piercing: using knives or hypodermic needles to penetrate the skin, leaving cuts or holes which quickly heal,
Scarification: using knives to create deep cuts leaving permanent scars, marks or designs,
Tattoos: permanent tattoos using needles and ink, or temporary tattoos using something like henna,
Hot and cold branding: using a heated or cooled metal template to burn a permanent design into the skin, and
Body jewellery: body or genital piercing with jewellery, such as studs or rings, left in the holes.
Consent and negotiation
Consent is an important part of any BDSM relationship or scene. Because of the nature of many BDSM activities, consent is one of the ways BDSM folk ensure that their explorations together remain healthy adult interactions and don't stray into abuse.
Indeed, many BDSM practitioners consider consent so vital that it has made its way into two of the common mantras often heard as guiding principals for many: SSC and RACK.
SSC stands for Safe, Sane and Consensual and RACK, a more recent development, stands for Risk-Aware Consensual Kink.
Amongst experienced players, particularly those who know each other well, consent can be implicit through the act of entering a BDSM dungeon or play area, or by simply starting a scene. Others, especially newcomers to BDSM and those who don't know each other well, should discuss, negotiate, and agree on what is to happen before each scene so that there are realistic expectations and no surprises.
It is important that once a scene begins that no re-negotiation occurs because in the heat or excitement of the moment someone might agree to do something more than they originally agreed and then regret that choice later.
Safewords
An important part of the idea of consent is being able to withdraw it. In a BDSM scene where screaming and yelling is par for the course, or where it isn't possible for one partner to talk---such as when they are wearing a gag---there needs to be some unambiguous way for one partner to indicate to the other when a limit has been reached, or when the action needs to slow down or stop.
These are safewords or safe gestures---single-word or single-action signals with a pre-agreed meaning. For example, a BDSM torture or flogging scene may actually involve the person being tortured yelling "Stop!" just as a natural part of how they express themselves when they actually don't want the action to stop at all.
Instead of using words such as, "Stop!," or "Help!," which can be misunderstood in these situations, many BDSM folk will agree on words such as, "red" (stop), "amber" (slow down), or "green" (full-speed ahead!).
In situations where speech isn't possible---such as when wearing a gag---a gesture such as waggling fingers or dropping a ball can be effective.
Dominance and submission
The most well known face of BDSM is that of one person tying up, hitting, or otherwise doing something apparently painful or uncomfortable to their partner. This is the realm of BDSM scenes which, as noted above, have a well-defined start and end and which consist of pre-agreed activities.
This is fine for some, but others into BDSM look to extend the time they are in control of their partner, or when they have power over their partner beyond the end of any scenes they might engage in. At the same time, their partners look for opportunities to be under the sway of their partner, or to feel the control of their partner, also outside of any scenes.
This is an area of BDSM called dominance and submission (D&s) and rather than have to do with particular BDSM activities---such as flogging or bondage---D&s has to do with explorations of power, authority, and control. In terms of consent, instead of agreeing to particular activities, a D&s couple will agree to the extent to which the dominant partner will have control over their submissive partner. Then, within that framework the dominant partner is free to exercise that control at any time or place for their mutual benefit and satisfaction.
This may mean, for example, that the dominant can order their partner to perform some task or duty at any time, even when that duty has nothing overtly to do with BDSM. This can be the making manifest of the power that the dominant maintains over their submissive partner, and for many it is the actual exercise of power in this way which can be stimulating and rewarding.
This doesn't imply that a D&s couple don't do anything that looks like typical BDSM, but only that the consent and negotiation is such that it extends beyond the narrow confines of times and activities and allows the couple much more latitude in how and when power and control are expressed and used.
Because of this extension outside of the normal areas of BDSM play, D&s couples can find opportunities to explore their BDSM relationship in normally mundane or pedestrian contexts. For example, while a D&s couple are having lunch in a cafe the dominant partner may order his partner to fetch a magazine or perform some other task. This may be a natural part of their relationship and, equally, a natural expression and use of the power from which both of them get pleasure.
People
In the world of BDSM, people often identify themselves according to roles they play in their relationships with others. These aren't roles in the sense of acting, but roles in terms of duties, typical activities, and attitudes which they adopt in these relationships.
Top / bottom
Tops and bottoms get their names from the fact that the person on the bottom is usually the one having things done to them by their partner, who is above them or on top.
From these names we get the terms "topping" and "bottoming", which refer to doing BDSM things to your partner, and having BDSM things done to you by your partner, respectively.
These things are physical activities such as impact play, bondage, sensation play, and so on, and are agreed upon beforehand. Topping and bottoming is almost always done just in scenes.
Where dominance and submission gives the dominant partner the power and authority often wide-ranging choice about what gets done, how and when, tops and bottoms don't get anywhere near this sort of authority. Everything is pre-agreed and the neither partner gives up any authority.
Dominant / submissive
As noted earlier, dominance and submission (D&s) have to do with authority and how it's used, rather than just with specific activities. The dominant partner, the one with the authority and power, is called the dominant, while their partner, the one who is subject to this authority and power, is called the submissive.
It's usually the case that the extent of the power and authority is limited between a dominant and a submissive. It might only be that the dominant has authority in certain circumstances, or that the authority can only be exercised in certain ways. For example, a submissive might place themselves at the disposition of their dominant partner for any and all BDSM activities just for a weekend, or might make themselves sexually available without limit every morning, but only from 5am to 8am so as not to interfere with work commitments, etc.
The consent for dominance and submission tends to exist from moment to moment as circumstances and needs allow. Submissives always have the option of saying no, as indeed do their dominants.
One style of D&s which can be quite satisfying for both partners is that of service. Instead of engaging in specific activities, or having the dominant spend their time ordering their submissive around, the submissive may find serving their partner rewarding. This is an interesting aspect of control because rather than be commanded by their dominant partner directly, the submissive takes their guidance primarily from the desires, comfort, and preferences of their dominant. The submissive may bring their partner food and drinks, cook, clean, provide sexual service, carry their partner's bags, open doors for their partner, and so on.
The idea of being under the control of a partner can be quite powerful, as can the idea of having complete power over a partner. Research shows that both of these are quite a common desires, and dominance and submission is a good type of relationship to have in which this control can be explored. However, as noted, many times limitations are necessary due to other life choices and situations.
Master / mistress / slave
Depending on who you ask, the terms "master", "mistress", and "slave" often encompass the roles I've already been discussing. This is unfortunate and creates confusion. Instead, I like a clear distinction and consequently I like to think of masters, mistresses, and slaves as having different wants and needs from tops, bottoms, dominants, and submissives.
Dominance and submission can be quite satisfying for many BDSM folk, but as noted above, there are often loopholes. The commitment is not absolute. D&s is typically not all-encompassing and it's frequently the case that dominants and submissives don't want it to be. They often have a comfortable range of areas where they like to explore and exercise power and control, but outside of those areas they don't engage their partners in BDSM terms at all.
When the terms master/mistress and slave are involved, one of the most obvious features is that the ability of the slave to say no is removed in some or all contexts. This is by agreement, of course, and can be part of a slave contract which the master/mistress and slave enter into at the beginning of their (M&s) relationship.
In reality, the slave is physically free to walk out at any time, but the difference between this and a D&s relationship is that saying no indicates a complete breakdown of the relationship, and can be due to the slave not understanding the commitment required of them, or of their partner making inappropriate demands. In a D&s relationship, no is sometimes expected and accommodated.
Trust is important in all relationships, but in an M&s relationship this is more so. In top/bottom and dominant/submissive relationships the ability to say no is retained and this can only be so when both partners are involved mutually in any decision-making, even if it is normally the dominant who makes the actual decisions. In an M&s relationship this is not the case and the slave is expected to follow orders whether they know what they're about, or their consequences, or not. This requires significant trust on the part of the slave and significant acceptance of responsibility on the part of the master or mistress.
It's worth noting that a niche usage of the these terms is in the professional area of BDSM services. Often it's the case that a professional BDSM master, mistress, or slave will get together with a client strictly for a scene involving pre-agreed activities. This is more akin to a top/bottom engagement.
Switch
Some BDSM people describe themselves as switches. A switch is someone who can be on one side or the other of the BDSM equation, such as being a top for one scene and then a bottom in the next scene, depending on the circumstances and how they feel.
People in a dominant/submissive relationship tend to be always dominant or always submissive and not change through the course of the relationship. In their case, although the majority of the authority rests with the dominant that doesn't preclude the dominant from enjoy taking the role of bottom in some scenes. Some dominants do like a relaxing flogging or enjoy a piercing, and just because they are having something done to them by their partner doesn't change or reduce their overall authority.
This is an important idea because, as we saw earlier, topping and bottoming doesn't have anything to do with authority, but is instead simply an agreed activity performed between partners.
Relationships
Top
←→
Bottom
 
Dominant
←→
Submissive
 
Master
Mistress
←→
Slave
 
Figure 10. Most common relationships
The most common BDSM relationships are shown in figure 10. These are mostly intuitive but, of course, lack any real information about what such couples do together and how their relationships play out in BDSM terms.
The relationships between BDSM folk serve to satisfy their mutual wants and needs. Some people see BDSM strictly in terms of sex and so their BDSM play tends to be very much limited to their time in the bedroom. Rather than see BDSM as a separate activity, BDSM is instead for them just kinky sex and they practise it only at specific times as a sex aid.
Some people look for something different to sex from their BDSM activities. It's true that they may still combine BDSM with sex, but sex isn't the only thing they are looking to satisfy. They may find that their BDSM sessions with their partner are important times to share and bond, to explore power and control, or any of a number of other reasons.
The main difference to note between these occasional BDSM players and the kinky sex folk mentioned earlier is an enthusiastic embrace of BDSM as more than a sex aid and as something worth exploring for its own sake. However, it still remains something which they practise only at specific times as their wants, needs, and opportunities dictate.
Others people look for BDSM to be an ever-ready or even frequently employed component of any long-term relationship they enjoy. This means that instead of figuratively putting BDSM away in a drawer somewhere when they finish play, they keep it out, ready to use as the mood or feeling strikes them. This is important because it allows BDSM to colour every aspect of their private lives, to affect how they interact together, and to let BDSM occur as part of everyday activities... even housecleaning, cooking, driving somewhere together, and so on.
Further, some people want more than just to have BDSM on a sort of ready standby so that play can occur at any time, and instead look to have a consistently and intentionally active D&s relationship with their partner. This allows them to create a power or control-based relationship where one holds and uses authority over the other as a constant aspect of their relationship.
Because BDSM need not be seen as solely sexual, BDSM can extend to all parts of people's private lives. For some people they may even include in in their social lives and enjoy being with, and sharing and playing with other BDSM enthusiasts.
It follows then that BDSM relationships can be 24/7. That is, they can exist in terms of BDSM 24 hours per day, 7 days per week. This generally doesn't apply to topping and bottom because scenes must eventually come to an end, even if it's just because the top's flogging arm is getting tired. 24/7 however can easily apply to D&s relationships where the dominant is the actively authority in both partners' lives. That doesn't mean he or she is constantly making decisions or issuing orders, but does mean that they are the main decision-maker and their partner submits to those decisions and choices.
Returning to the table of roles and relationships above, we can now see some ways these different relationships may play out, as either scene-based explorations, sex-based activities, or as more integral parts of a relationship as a whole.
Collars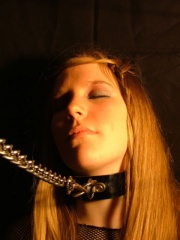 Figure 11. Collar and leash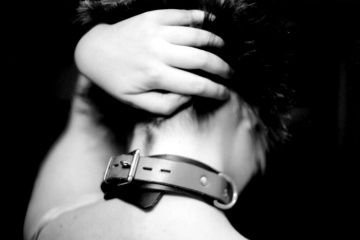 Figure 12. A rear view of a collar showing the buckle used to fasten it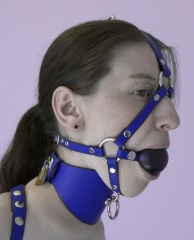 Figure 13. A submissive with a ball gag in her mouth and a posture collar around her neck. Note the padlock on the collar preventing her from removing the collar herself
Collars have a practical and symbolic role in much of BDSM.
From a practical point of view, many collars have a role in bondage and restraint. All of the collars you see in the figures to the right are fitted with D-rings which can be used, as in figure 11, to attach a leash, or simply as a general tie point for rope bondage.
Figure 13 shows a posture collar. These are quite stiff, are worn tightly---as you can see---and are very broad at the front which compels the submissive wearing it to keep her head up (hence the term "posture").
In addition, accompanying the idea of a dominant or top being in charge of their submissive or bottom can come the idea of ownership, i.e., of the dominant owning his or her submissive or of the submissive being "property". Collars are strong symbols of ownership and can have a similar symbolism to a wedding ring for couples in a long-term BDSM relationships, with a formal collar being placed around the neck of a submissive at the beginning of the relationship by their dominant partner. This gives rise to everyday collars, simple collars or necklaces which can be worn day-to-day and in public, dress or formal collars which are worn for formal BDSM outings and events, and play collars which are more practical collars for use in BDSM play scenes.
Dungeons, BDSM furniture, equipment, and toys
People who are quite keen on BDSM often set up special areas of their house or apartment with specialised equipment for practising BDSM. This is called their "dungeon" due to its association with pain and torture.
A dungeon space commonly contains BDSM furniture, fixtures, racks of equipment used in BDSM, a wash basin, cleaning supplies, and disinfectant.
BDSM Furniture
Some specially designed furniture can help in some forms of BDSM play.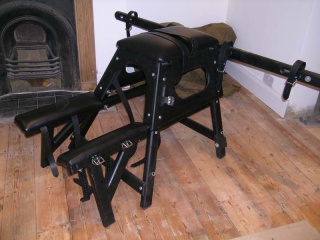 Figure 14. A spanking bench
A bondage chair is a wooden chair designed for someone to sit on with their legs apart. The bottom or submissive can be tied firmly to the chair which has part of the seat cut away allowing access to their genitals.
A Saint Andrews Cross or A-Frame, which is a specially-shaped frame for someone to hold on to while standing, or to tie them to, for flogging or whipping.
A padded benches or spanking bench (figure 14) on which someone can comfortably kneel for long periods while being spanked or caned.
Dungeon fixtures
Beyond what a normal room might have---such as lights and a door---dungeons also often have:
Firm anchor points on the wall for leashes or for bondage, and
Anchor points in the ceiling from which someone can be suspended once they are tied.
Equipment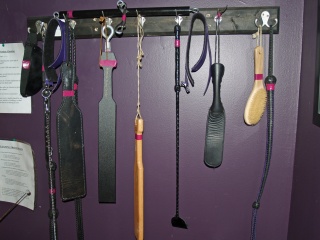 Figure 15. A selection of BDSM equipment hanging from a rack for easy access
Dungeons also contain a range of equipment and toys used during scenes (figure 15). They can include: