Peter Masters
(petermasters on FetLife)

Peter Masters
(petermasters on FetLife)

---

About me
About this site
My books
This Curious Human Phenomenon
From PeterMastersWiki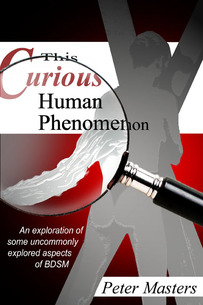 This Curious Human Phenomenon
An Exploration Of Some Uncommonly Explored Aspects Of BDSM
Author: Peter Masters
Pages: 242
ISBN 1-9346-2568-X
Visit the book's page at Amazon.com


There are many books which explain how to "do" BDSM. This Curious Human Phenomenon instead looks more at the why of BDSM. It examines needs, wants, and motivations. It looks at what gets satisfied through BDSM, and at how this satisfaction works.
In just a few words, This Curious Human Phenomenon looks at:
The various types of relationships and interplay between BDSM partners,
A wide range of reasons why someone might be involved in BDSM,
The psychological mechanisms at play in much of BDSM,
The different wants and needs which can be better satisfied through BDSM than through other means,
A large selection of the different activities which fall under the BDSM banner,
Culture and BDSM - be it BDSM's own micro-cultures, or BDSM's place in our wider western culture,
The unique role of social and formal groups in the world of BDSM.
Table of contents
Introduction

The abundance of how
The scarcity of why
It isn't always about sex
A note about references
Culture
The two surveys
The rest

Survey of physical activities

Bondage and discipline
Bondage and restraint
Nipple clamps
Labial clamps
Piercing
Cutting
Branding
Fisting
Waxing
Suspension
Fireplay
Iceplay
Sensation-play
Breathplay
Catheterization
Vaginal and anal stretching
CBT
Electric play, or electroplay

Survey of psychological activities

Humiliation
Orgasm control and denial
Nudity and nakedness
Fear
Ritualised, symbolic, or service behaviour

Conscious and unconscious

The conscious
The unconscious
The personal unconscious
The collective unconscious
A wind-up on communication
Knowing the difference

Identity maintenance, management, and role-play

What it is
Selective vision
Conflict
Active subsets of the whole identity
Primary identities
Identity protection
Role-play
Ready-to-wear behaviour
Baggage
Communities
Alternate names

The Other
Penetration

The hunt for penetration
An analogy
Custodians of penetration
Male / female differences
Trying to see BDSM without penetration

Relationships I

Nailing down some roles and dynamics
Tops and bottoms
Dominant and submissive
Master and slave
Trainer and trainee
Owner and property
A common thread
Hunter and prey

Relationships II
Motivations

Chemical high
Sub-space
Transformation of pain into pleasure
True Self / False Self
Minimising self
Experiencing power
Ecstasy and rapture
Intimacy and bonding
Hotter sex
Play versus "deep play" versus work
Catharsis
Recreation
Physiological
Pretenders
Subtle
Failing to recognise
Consequences
A role for self-harm

Need

How can you recognise something as a need?
Satisfying need
Health concerns
It's not just subbies

Surrender and anchors
Health concerns

Risk
Riding the ragged edge
Not focused enough to notice
Physical health concerns
Psychological health concerns

Comments on some research into BDSM and sex

Hill and Preston 1996
Meston and Buss 2007

The role of groups
Social groups
Structured groups

Resources
Roles
Ranks
Rules
Subgroups
Master and slave as a structured group
Structured groups create novel and unique contexts
The individual's relationships within the group
Citadel complex
In conclusion

Analyses

At a hotel
The Sad Man
Correspondence canned
The unpaid consultancy
Token compensation
Common factors
Conclusion

Types of authority

Authority of office
Technical authority
Personal authority
Delegation
Rank
Awarded authority
Physical superiority
Many hats
Not authority

Training

Play
Service
Training and trainers

Abuse

The common view
Definitions
Good intent, but bad consequences
Long-term consequences
The role of intent
Unequal power
Instances of abuse
Physical outcomes
Carelessness and neglect
A note about the perpetrator
Recognising abuse and abusers
Wrap-up

Conclusion
Bibliography
About the Author