Peter Masters
(petermasters on FetLife)

Peter Masters
(petermasters on FetLife)

---

About me
About this site
My books
About me
From PeterMastersWiki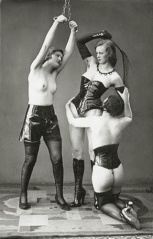 Of course, this is totally real!
Peter Masters is an Australian BDSM author, researcher, and dominant.
To keep the wolves from the door he beats computer networks into submission at a local university. He has had a keen interest in computers and computer programming since he was 12 years of age, and has been fortunate to be able to make a career out of one of his life-long passions.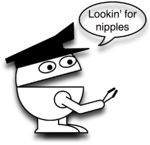 He is five feet ten inches tall, and is not unique in that respect. He is the author of a number of books on sex and BDSM including A Year Of Dominance, Look Into My Eyes, the BDSM Relationships series and The Control Book, and spends the majority of his time when away from the keyboard fending off the advances of horny and amorous women (he wishes).
Since puberty he has been both an active explorer of the kinky side of life, and is a passionate devotee of power and authority dynamics. For over a decade he has also been researching and writing about BDSM.
An interest from his early teens is hypnosis. He has a diploma in hypnotherapy, and is the author of a truly fabulous and desirable book on the recreational use of hypnosis and sex. First published in 2001, Look Into My Eyes, has gained very positive reviews. It includes a couple of chapters on combining BDSM and hypnosis.
Peter is an experienced trainer, runs workshops and classes on things straight and twisted, and for a number of years also ran a discussion group on dominance & submission.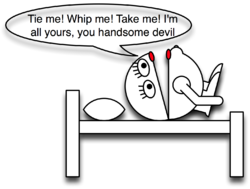 As a result of seven and a half years living and working in Europe, and through much hard work, he speaks both Italian and German fluently.
He lives in Sydney, Australia, rents a nice apartment near a fire-station, and is a devout heterosexual. Highly attractive young women with large assets should not hesitate to contact him via email.
Peter enjoys the parry and thrust of enthusiastic debate, discovering or learning new things, and writing enthusiastically about himself in the third person for the about-the-author pages of his books and website.

See also