Peter Masters
(petermasters on FetLife)

Peter Masters
(petermasters on FetLife)

---

About me
About this site
My books
How to run BDSM workshops plus 25 topics
From PeterMastersWiki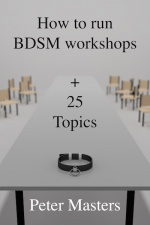 Author: Peter Masters
Published: October, 2013
ISBN: 0992326311
Pages: 138

Frequently, the easy part of discussing BDSM is where you talk about practical matters of safety, or where you talk about choosing the right implements and equipment, or where you compare different types of rope or knots.
But many people also want to talk about aspects of BDSM which aren't so easy to discuss such as how BDSM relationships work - particularly between scenes, about domination and submission as opposed to just topping and bottoming, about what's involved in mastery and slavery, about honour, trust, consent and many other things which aren't nearly so easy to nail down.
In this book, Peter Master explains how to have these talks.
The goal of the book is to help groups of BDSM enthusiasts move their BDSM from the simply mechanical to a deeper level by teaching them how to run workshops where they can share and develop their own understandings of the principles and philosophy of BDSM, dominance and submission, and mastery and slavery.
The book starts out with a very practical guide to running guided discussion workshops, and then continues with fully fleshed-out notes and explanations for 25 separate topics.