Peter Masters
(petermasters on FetLife)

Peter Masters
(petermasters on FetLife)

---

About me
About this site
My books
Hut of Dominance - 9 - Uniform fetish
From PeterMastersWiki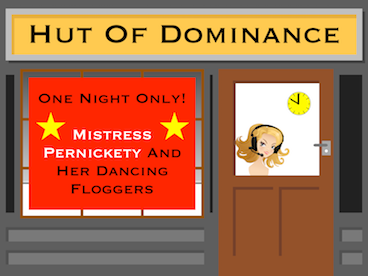 Hello. Hut of Dominance. Jacinta speaking.
...
No. They're not all the same. That's not what "uniform fetish" means.
...
No. I think you have the wrong end of the stick here. It's not "uniform" as in all of them being the same. It's "uniform" as in something you wear, like a police uniform, or a military uniform.
...
Well, yes, I suppose it could be a hot-dog vendor's uniform like at a ball game, though we don't actually get much call for that particular fetish here.
Are you looking for something with maybe a bit of role play, where you dress the part and maybe get some sexy treatment or a bit of rough handling?
...
Yes. We could do a military scene where you're interrogated.
...
You want an exciting role with a uniform, like a spy? Spies don't wear unforms. It sort of defeats the purpose.
...
I know. It's very hard to decide, isn't it?
Would you maybe like to think about it and then get back to us?
...
Ok. It was very nice talking to you, too.
Bye.
<click>