Look Into My Eyes

by Peter Masters

by Peter Masters

"Masters' approach to the topic is at times gentle and humorous and makes you comfortable with using it."

---

"... a step-by-step guidebook which teaches the individual how to use hypnosis to heighten arousal."

How to use hypnosis to enhance your sex life
---
Induction
From PeterMastersHypno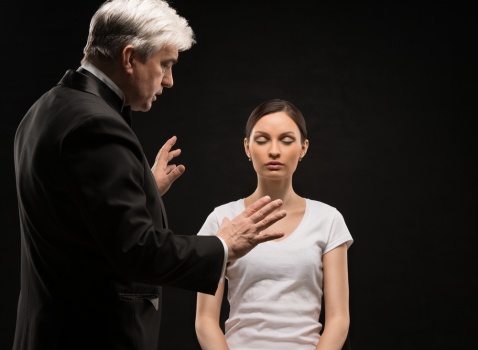 ↑
Hypnotising someone is best done somewhere quiet where they won't be distracted by anything, and then by getting them to focus on something such as a visual image or a mental task such as counting backwards.
An induction is how someone is hypnotised. There are an enormous number of ways of doing this, though one thing they do have in common is that they involve the subject focussing on something as directed by the hypnotist.
Some rapid inductions may only take a few seconds, though it is probably more common for therapists and other practitioners to use longer inductions.
The ability to go into a trance is something that is learned. A person who is hypnotised for the first time will be less responsive and will not go into as deep a trance as they do on subsequent occasions.
It is frequently convenient, when someone is to be hypnotised regularly, that they be given a post-hypnotic suggestion which will put them into a trance on a signal from their hypnotist, rather than having to go through a full induction each time.
How it's done
Taking someone through the process of being hypnotised, working with them while they're in the trance, and then waking them up at the end, generally follows the same series of steps.
Planning
Preparation
Focus
Future tense
Present tense
Deepening, testing and work
Wake up
Debrief
To actually learn how to hypnotise someone you should seek training from someone already skilled, or--at the very least---find a good book which can explain the techniques in detail as well as the things to watch out for.
Below are the steps in brief.
1. Planning
The planning is something you should so before you even get your future subject in the same room as you. You should work out in advance what you're going to be doing with your subject once they're in the trance so that you're ready once they're under. You also need to work out how you're going to hypnotise them, and you need to make sure that wherever you do it you're going to have plenty of uninterrupted time.
You should also arrange to have everything you need beforehand because it can be difficult to quickly run out and get water if you or your hypnotised subject become thirsty, condoms if sex happens, and so on.
2. Preparation
Turn off all mobile telephones, make sure there are no visits from relatives or friends planned, make sure there's nothing in the oven, and so on.
Sit your subject down in a comfortable chair. Make sure the room isn't too hot or too cold. Ensure that all distractions are removed---turn off the TV or radio, make sure there's no annoying clock ticking nearby, send the neighbour's kids to get an ice-cream, etc.
Discuss with them, as much as you wish, what's going to happen. Brief them on what it's like to be hypnotised and answer any questions they may have. Make sure they are fully comfortable with the idea.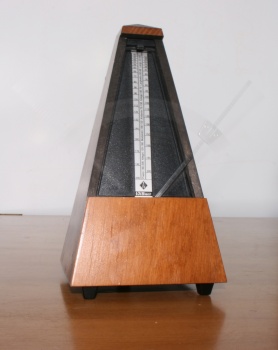 ↑
Figure 1. The ticking of a metronome can be a good focus.
3. The focus
Almost all hypnosis starts with you getting your subject to focus on something. While looking into your eyes can work, looking at a shiny object held in front of them can be easier for you, or having them close their eyes and listen to a metronome (figure 1) or imagine some peaceful scene can also be very effective.
The important thing is that there are no distractions and that can fully focus their attention on this one things.
4. Future tense
Start by suggesting what's going to happen to them: they will go into a trance; they will start to relax; their eyes will become heavy and start to close.
5. Present tense
Once you see your subject starting to respond--such as their muscles start to relax, their head starts to fall forward---switch to present tense: they are going into a trance; the muscles in their body are relaxing; etc.
6. Deepening, testing and work
Once they're in the trance you being the cycle of:
Deepening the trance - getting them to relax more, guiding them down deeper, getting them to focus more on your commands and your voice,
Testing the trance - giving them little exercises---such as moving, sitting up straight, speaking, etc.---to assess how deeply hypnotised they are,
Work - actually doing with them what you planned, or giving them the post-hypnotic suggestions you planned.
7. Wake up
Finally, you wake them up. Don't rush this because they may come out of the trance disoriented.
8. Debrief
Some time after the trance, preferably sooner rather than later, and after you've finished playing with any post-hypnotic suggestions you've given them, debrief them. Find out what worked well for them and what didn't, and then feed this information back into the planning you do for your next session with this subject.
See also