Look Into My Eyes

by Peter Masters

by Peter Masters

"Masters' approach to the topic is at times gentle and humorous and makes you comfortable with using it."

---

"... a step-by-step guidebook which teaches the individual how to use hypnosis to heighten arousal."

How to use hypnosis to enhance your sex life
---
Look Into My Eyes - Sex and Post-Hypnotic Suggestion
From PeterMastersHypno
Look Into My Eyes
---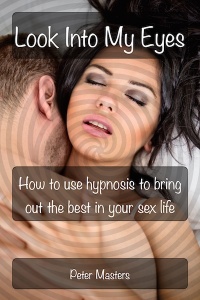 ---
How To Use Hypnosis To Bring Out The Best In Your Sex Life
Author: Peter Masters
---
---
---
"Masters' approach to the topic is at times gentle and humorous and makes you comfortable with using it."
---
"... a step-by-step guidebook which teaches the individual how to use hypnosis to heighten arousal."
---
"One of the most valuable aspects of this book, in my opinion, is the copious inclusion of scripts."
---
(Extract from Look Into My Eyes, Chapter 9 - Sex and Post-Hypnotic Suggestion, pp. 119 - 121)
POST-HYPNOTIC SUGGESTION can be both useful and fun when combined with sex. One of the things I am going to talk about in this chapter is how to use PHS to control - to some degree - how quickly or how slowly your partner responds sexually. Now I want to remind you that this is not intended as a form of therapy for someone with sexual problems, including potency difficulties or premature ejaculation. Any sexual problems which are causing actual difficulties in your relationship should be dealt with by a professional therapist.
INSTANT AROUSAL
It can be, er, "diverting" to make your partner horny on a signal. If you are sadistically inclined you can trigger your partner somewhere in public like the local supermarket, just to see them suffer a little bit, or you can trigger them while you are sitting together having dinner at home (make sure that you can reheat the food!).
I'm going to show you two ways of doing this. The first is by a direct post-hypnotic suggestion, and the second is by using PHS to associate strong sexual feelings with a public part of your partner's body which you can then use to trigger them. You'll see what I mean shortly.
DIRECT POST-HYPNOTIC SUGGESTION AROUSAL
From now on whenever I say to you the phrase, "You look sexy in that outfit," you'll immediately start feeling very sexy and horny. It won't matter what you're doing at the time or where we both are; when you hear me say that phrase you'll immediately start feeling very hot and horny, and very hungry for sex.
As well, when I say to you the phrase, "No more horny," any horniness or sexual hungriness caused by me having said, "You look sexy in that outfit," will immediately and instantly disappear.
So when I say, "You look sexy in that outfit," you'll become very horny, and when I then say, "No more horny," that horniness will disappear.
How effective this post-hypnotic suggestion is will depend - as I have often mentioned in this book - on how deeply hypnotised your partner is when you give it, how strongly you give it, and on how sexual they are in thefirst place.