Look Into My Eyes

by Peter Masters

by Peter Masters

"Masters' approach to the topic is at times gentle and humorous and makes you comfortable with using it."

---

"... a step-by-step guidebook which teaches the individual how to use hypnosis to heighten arousal."

How to use hypnosis to enhance your sex life
---
Look Into My Eyes reviews
From PeterMastersHypno
Look Into My Eyes
---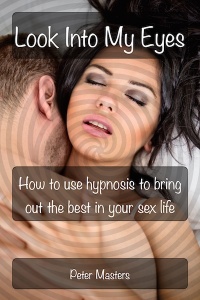 ---
How To Use Hypnosis To Bring Out The Best In Your Sex Life
Author: Peter Masters
---
Reviews
---
---
"Masters' approach to the topic is at times gentle and humorous and makes you comfortable with using it."
---
"... a step-by-step guidebook which teaches the individual how to use hypnosis to heighten arousal."
---
"One of the most valuable aspects of this book, in my opinion, is the copious inclusion of scripts."
---
Masters has written an excellent guide to hypnosis for the lay person. His instructions are clear and very detailed and he often explains the reasoning behind his instructions as well so that the reader will be able to confidently adapt the techniques for individual situations.
  
Even a perfectly happy sex life can use a little spice now and then, and this is a useful addition to your tool box. If you have any fetishes or scenarios you've always wanted to try but never had the chance, or were a little afraid/shy to, this is the answer.
 
I have to say, this book has gone a long way in making me feel more confident and capable about integrating that aspect into our BDSM play. In fact, it's about as reassuring as you can get...
  
[T]his book has actually already begun helping in the short time we've been trying it. I imagine that partly due to my boyfriend's natural susceptibility to hypnosis, but either way, this book helped a lot.
 
For those interested in using the ideas in this book professionally (such as dominatrices and other sex workers), Masters offers sufficient information and advice that is readily adapted to a professional setting including a short section about the BDSM applications of hypnosis.
  
I particularly enjoy being able to delay my wife's orgasms, so that they can build to new levels of sexual highs. Male friends have told me that they now feel even more confident meeting women, because they know that they have something totally unique and special to eventually share with them.
 
Masters even covers many of the "glitches" I personally experienced as a hypnosis subject and explains ways to avoid or minimize those situations.

Masters spends a good amount of time explaining the ethics of hypnosis. This is very important since hypnosis requires a good amount of trust and is an activity that can be abused by the unscrupulous.

  
As a certified hypnotist, I know that Peter Masters' guide to unleashing the euphoric power of HypnoSex (or Erotic Hypnosis) is a gift to the sexually adventurous!