Look Into My Eyes

by Peter Masters

by Peter Masters

"Masters' approach to the topic is at times gentle and humorous and makes you comfortable with using it."

---

"... a step-by-step guidebook which teaches the individual how to use hypnosis to heighten arousal."

How to use hypnosis to enhance your sex life
---
Look Into My Eyes - Fantasy
From PeterMastersHypno
Look Into My Eyes
---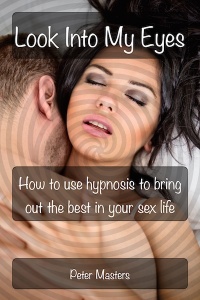 ---
How To Use Hypnosis To Bring Out The Best In Your Sex Life
Author: Peter Masters
---
---
---
"Masters' approach to the topic is at times gentle and humorous and makes you comfortable with using it."
---
"... a step-by-step guidebook which teaches the individual how to use hypnosis to heighten arousal."
---
"One of the most valuable aspects of this book, in my opinion, is the copious inclusion of scripts."
---
(Extract from Look Into My Eyes, Chapter 8 - Fantasy, pp. 93 - 98)
MANY people who are hypnotised are capable of having intense and compelling fantasies. These fantasies can be far more intense and involving than fantasies which they may explore or experience at other times. In this chapter I present a number of sexual fantasies which you can "give" to your hypnotised partner. After putting them in a trance you verbally create and then guide them through the fantasy. Your partner need not be naked, but don't be surprised if your partner does climax (i.e., orgasm) during the experience.
Before I continue, though, I want to give you a bit of a warning. When your partner responds well the fantasies can seem very real; therefore be very careful about giving them fantasies about things that might frighten or shock them. For example, some women fantasise about rape. This is OK when it's their fantasy; they know that it's a fantasy and it's under their control. Now, real rape is not a pleasant experience for a woman and can emotionally and sexually scar her for a very long time. A rape fantasy using hypnosis can be so real for your partner that it terrifies and does the same scarring as the real thing. Leave it alone.
Be also very careful of any fantasies that are scary or confronting in any way, like public nudity, sex with strangers, snakes, spiders, heights, frightening locations and so on.
I like to create just enough of a fantasy so that it has a basic shape and so that I know what's going on; then I let my partner's imagination fill in the details - like sights, sounds and smells. You'll see this in the upcoming scripts. If you are a bit of a storyteller you might like to try creating more elaborate scenes, for example:
You follow this naked beauty, your eyes transfixed by her narrow waist, broad hips and gently swaying backside, as she walks down the plain wooden hall and pushes open the door into her dimly lit bedroom. You briefly glance around at the walls of the room, covered from ceiling to floor with deep scarlet silk wall hangings and, as you enter, your feet sink deep into the soft, warm thick rug laying on the bare floor between the door and her white silk-hung four-poster king-size bed. Your first breath fills you with the scent of incense, which you realise is coming from the two burning sticks on the small table beside the bed that you are inexorably being drawn towards.
As a good source-book for sexual fantasies I very strongly recommend Nancy Friday's books. Nancy Friday became famous for My Secret Garden, one of the first serious books to explore female sexual fantasies. More than twenty years later she looked again at modern female fantasies in Women On Top and at male sexual fantasies in Men In Love. All three of these books are great places to find fantasies explained, categorised and ready for use.
Running a fantasy session with your partner is fairly straightforward. You hypnotise them and then use one of the scripts below, or one of your own making, to create the fantasy in your partner's mind. Tell them the fantasy just as if you were telling them a story. Give your partner plenty of time to build the images in their mind, and to feel and become involved in the fantasy themselves.
After the session be sure to debrief your partner and find out how it worked for them, and maybe what changes - like type of fantasy, pace or delivery - could be made.
If your partner has a tendency to fall asleep after making love, you might find that they also really fall asleep during the sexual fantasy. If they do fall asleep make sure that you're around when they wake up because they may still partially remain in the trance and you may need to do a simple wake-up with them. It can be a good idea to do your first sexual fantasy with your partner in the evening when it won't matter if they nod off and when you have plenty of time.
At the end of each fantasy I like to let my partner "soak" for a bit before recovering them. This recovery is where you bring your partner back to reality from the fantasy world you created for them. Just waking your partner at the end of the fantasy can be a sudden jolt. It is much gentler to guide your partner back to reality while they are still in the trance, and then wake them up after that. Here's an example:
Now the fantasy is ending and you are back in our bedroom. You've been fantasising while in a trance and now you're back home with me. You're no longer in the fantasy that I created for you; you're back in reality. Relax and go deeper into the trance.
This is nice and simple and focuses your partner's mind back on reality. This isn't part of the story that you tell your partner to create the fantasy, so use a different voice. I like to use a stronger and more imperative or authoritative voice when doing a recovery than when I'm telling the story. Sometimes the fantasy you can create is so pleasant that your partner will not want to leave it straight away. Using a strong voice lets you order them back to reality.
JOINING THE MILE-HIGH CLUB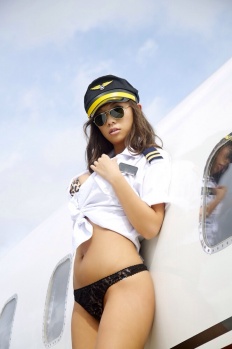 ↑
Your partner can join-the mile-high club right in your bedroom
Quick summary: your partner is in an airplane with you. During the in-flight movie you both sneak back to the toilets for a quickie. This script is written for a hypnotised male partner with the female partner (the hypnotist) guiding the fantasy.
Imagine now that we're in an airplane. We're on our way to London for a holiday. They've just finished serving dinner and now the in-flight movie is on. You've already seen the movie and you're bored.
You look over at me and you have the idea to make love with me while the movie's on.
You reach over and start stroking my thigh. When I look over to you you smile and lean over to me. You tell me to meet you at the back of the plane. Then you undo your seat-belt, stand up and walk down the aisle.
At the back of the plane you stop and look out one of the windows there. You can see the sky getting dark and the clouds way down below us.
After a minute or so you feel my hand on your shoulder. You turn round and guide me into one of the toilets. You check to make sure that no one notices. No one does.
As the door closes you turn the lock and the little light comes on. Without saying a word you press yourself up against me, wrap your arms around me and give me a long and wet, sexy kiss. You can feel your penis getting hard in your pants, pressing against me. You are getting very horny.
As your penis gets harder you reach down and start rubbing and squeezing my backside. You can feel my arms around you as I pull myself hard against you. You feel my body rubbing against yours as the plane gently rocks and you get even hornier.
Suddenly you feel a rush of sexual hunger and you reach down and start lifting up my T-shirt. As you do you rub your hands up my back. You feel my breasts fall out and you reach up to stroke them briefly before removing your own shirt.
As your shirt comes off I rub my hands through the hair on your chest and I squeeze your nipples gently. You reach over and stroke my breasts again for a moment before pulling down my tracksuit pants and panties both at the same time.
One of my hands is still rubbing your chest. The other is between your legs, rubbing the bulge in your pants. You are feeling very, very horny now.
You slip one hand between my thighs and you feel that I'm very wet. You can feel the sexual tension building between us and you know that I want to feel you inside me.
Although there's not much space you manage to help me to turn around and to lean over the closed toilet. As I bend over you pull your pants down and start to slide your penis into me. I feel so warm and wet to you. My vagina feels so warm and wet and tight.
As you slide into me the gentle rocking of the plane helps you develop your rhythm. You find it easy to thrust into me because the rocking of the plane is helping you to push.
My vagina is so tight and hot. You keep thrusting, holding onto my hips and pushing; pushing harder and harder.
Even though there is the rushing and the roaring of the airplane's engines you can hear me starting to moan with pleasure. You know I am loving what you are doing. You can feel yourself more and more aroused all the time. You know that it won't be much longer before you come.
The rocking of the plane is helping you push into me. It's easy to push deep into my hot, wet vagina.
Suddenly you feel a rippling in my vagina, a squeezing sensation, and you know that I am coming. You hear me trying to stifle a cry. The feeling of me coming brings you to orgasm.
You grip my hips even harder and push yourself hard into me. You drive your penis into me and feel yourself come deep inside me.
As you finish coming you feel a deep wave of relaxation wash over you. You feel a little drowsy and relaxed.
After a few moments you pull your penis out of me. I turn around and look up at you, smiling. You lean forward and kiss me lightly, gently, on the lips.
We both grab some toilet paper and clean ourselves up. You unlock the door and go out, back to your seat. I wait for a moment and the follow you.
As I get back to my seat you are feeling happily drowsy and content. You cover yourself with the blanket and let yourself fall asleep.
(Pause to let the final image sink in.)
Now we're back in our bedroom. You've been fantasising while in a trance and now you're back home with me. We're no longer in the airplane, we're back in reality. Relax and go deeper into the trance now.